The region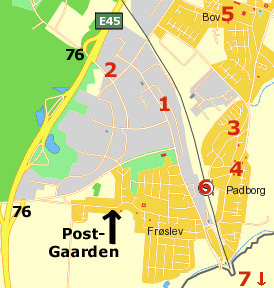 Padborg
Within minutes of Postgaarden you will find most shopping facilities.
1: Statoil Gasstation
2: OK Gasstation
3: Brugsen and Netto (supermarkets), also Padborg's small pedestrian precinct with it's shops.
4: Bakery, hairdresser and Fakta (supermarket)
5: Swimming bath almost next to the church
6: Train station
7: Border Shops in Germany such as Fleggaard, Poetsch, Duborg. Situated few km south of the Padborg border.
Distance to larger cities
Tønder ca. 35 km. [read more]
Sønderborg ca. 35 km. [read more]
Aabenraa ca. 26 km. [read more]
Flensborg ca. 9 km. [read more]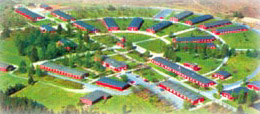 Frøslev camp
About 3 km of Postgaarden lays the Frøslev camp. It was built during the World War II's German occupation to room about 1500 prisoners of war. Today the camp houses a memorial park, several museums, a nature school and a boarding school. It is the only intact western european concentration camp from that period. [read more]

Gendarme path
About 1 km of Postgaarden you can get onto the gendarme path, that stretches 74 km from Padborg to Høruphav along the coastline. It is a very famous path for walking and partly biking, as well.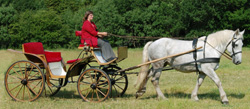 Horseriding and coach driving with Boulonnais horses
About 3 km west of Postgaarden lays Holbergsgaard, where Boulonnais horses are bred and used for riding and driving. It is possible to participate in riding or driving trips e.g. into the beautiful Frøslev Forest. [read more]
Danfoss Universe
About 40 km from the inn Danfoss have opened a park, where you can experience the natures forces on your own body, play with exciting technology and science, and get thrilled about mysterious phenomenons. [read more]

Black Sun
About 30 km of Postgaarden lays the Tondern Marshland, where it is possible to watch "black sun" every spring and every autumn, when about one billion starlings land and take off above the marshland and darken the sky half an hour before sundown. An amazing view! [read more]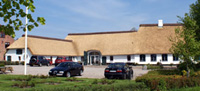 Bov Museum
About 3 km of Postgaarden is the museum placed inside historical buildings and offer many exciting experiences in the local museum, the museum for agriculture and the many changing exhibitions. [read more]


Gråsten Castle
About 20 km of Postgaarden is this castle with its english inspired park containing 40.000 different flowers and plants. It is allowed to walk through the park when the royal family doesn't stay. [read more]

Schackenborg Castle
About 45 km of Postgaarden you find this castle where prince Joakim has his residence and farms the castles land. The castle lays close to the picturesque village of Møgeltønder, which also is a popular trip. During summer there are guided tours through the castle's garden. [read more]

The border
About 2 km of Postgaarden it is on Kolonisthusevej possible to see one of the last barriers of Europe left. Also, all along the border you will find boundary stones that establish the exact borderline.

Højer Lock
Between Tønder and the mud-flats you find the Højer Lock. Højer became Tønder's harbour town after dykes separated Tønder from the sea. There is a great view across the dykes and marshland, and there is good possibility for bike rides.
[read more]

Useful addresses
Kruså Tourist office (about 6 km)
Flensborgvej 11, 6340 Kruså
[Læs mere]

Town Hall (about 25 km)
Skelbækvej 2, 6200 Aabenraa, phone 0045 - 73 76 76 76
[Læs mere]

Sommerland Syd (about 25 km)
Sommervej 4, 6360 Tinglev
[Læs mere]